Recently Read Books
Genevieve- Eric Jerome Dickey (Does he ever dissapoint?)
Tastes Like Chicken- Lolita Files (reads like a hilarious movie...enjoyed it)
Better Than I Know Myself - Virginia DeBerry and Donna Grant (Amazing)
Never Kiss And Tell- Tracie Howard (Liked it)
Move Over, Girl- Brian Thompson (Wonderful)
Tumbling- Diane McKinney-Whetstone (loved it)
Shades of Jade- Gloria Malette (loved it)
Married Men- Carl Weber (liked it)
The Good House- Tananarive Due (loved it)
The Emperor of Ocean Park- Stephen L. Carter (loved it)
Naughty or Nice- Eric Jerome Dickey (love anything by him)
Favorite Writers
Eric Jerome Dickey
Terry McMillan
Tananrive Due
Lolita Files
Omar Tyree
E. Lynn Harris
Valerie Wilson Wesley
Pearl Cleage
Margaret Johnson-Hodge
This is not all of them...and it changes often.
Music
I love music. I have not been blessed with any musical talent though...rather I am forced to live vichariously through the people who's talent I think is brillant. Maybe one day, when I have a little money to burn, I will take up some kind of instrument....we'll see.
Currently feeling
Mariah Carey- She's back.
The lastest Mint Condition offering...wonderful. They have returned to the scene with a vengeance.
Maroon 5- I love these guys. Soulful rock.
Eric Roberson-This man...passion, soul...just raw energy. Love it.
Teedra Moses- The perfect mix of sass and soul.
Aya....beautiful voice, lovely feeling, essence...electronica/soul...just all around a good album. It's called Strange Flower.
Ah....Jon B is back. So happy... :)
The new Jill Scott is...no words for it. Well, maybe one. Exceptional.
Lyfe is the truth...check him out.
Amp Fiddler is lovely...
My girl Brandy is back! Love the album, Afrodisiac
This Usher 'Confessions' album is wonderful...I love it.
Van Hunt...Brotha is immensely talented...if you get this album, you won't regret it. Soulful, funky, poetic...I love it.
And my other faves....
Dwele
Goapele
Usher
Jagged Edge
Avant
Andre 3000 of Outkast (he's genius)
Jay-Z
Javier
Musiq
Jon B
Kelis
As with books, this is not all...and this changes even more frequently.
Napptural Hair
I will be re-starting my loc journey in the near future. Currently I am growing out my hair from a second chop done in January. Ideally, I'd like my locs to be the size of those pictured.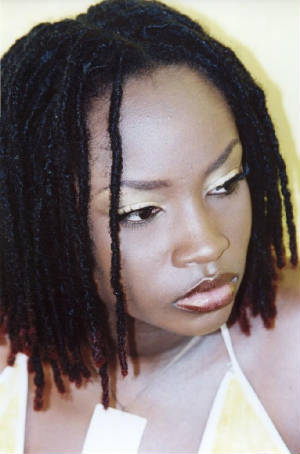 In the course of my journey, one site has been beyond helpful, encouraging, and welcoming. Stop by and visit:
http://www.nappturality.com